Dream Park Egypt - Have Fun and Excitement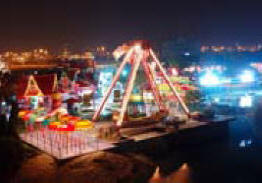 Established in 1999 over 150 acres of land in the Dream Land compound in 6th of October city in Egypt, Dream Park is the largest park in Egypt. The park is divided into six areas, Kids area, Ancient Myths land, Mountain area, Techno area (where most of the adventure) and of course the main gate area where many cafes and restaurants are there. Tickets allow visitors to play most of the games except for a few that you should pay for like the car race, Discovery, Death train and the Rocket.
Although the Park is vast enough to host 20,000 people at once, we advise you to go on a day other than the weekend to fully enjoy your visit and have time to play more. You will also pay less as there are offers during less busy times like during students exams, in winter and when the national football plays in a major tournament or against a famous team in Cairo.
Even when Dream Park is very crowded, you will feel that the park is well organized by people in charge who are trained to handle difficult situations. Safety is the number one priority, the game does not start until every thing is checked and clear instructions is given to players to avoid any risk.
There are many restaurants and cafes in the park that offer a diversity of food and drinks at different price levels suitable for all people. There is also a large parking area to park hundreds of vehicles and buses.
When you go to Dream Park do not forget to take your camera with you to shoot as many photos as you can to keep memories of the fun times you will have there with your family and friends.
Dream Park working hours:
Dream Park tickets prices:
For more information you can call 19355 (if you are inside Egypt), or +20 2 3855 3191 from anywhere in the world.
Quick links