Dolphina park, Fun in the Dolphin show Sharm El Sheikh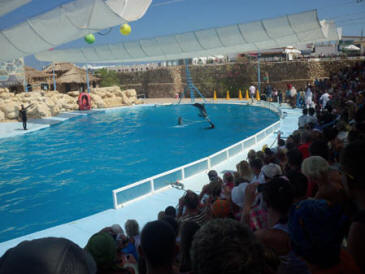 Dolphina is the a dolphins amusement park in Sharm El Sheikh located in the Um El Sid hadaba area where dolphins have been trained to perform tricks for the audience. The show which is performed by two male and female dolphins are loved by many visitors specially children as it contains wonderful acts full of fun. Some children are given a chance to ride a boat pulled by one of the dolphins. Some of the acts performed by the dolphins include singing, drawing a picture, kissing people as well as jumping and catching balls and rings.
Dolphins are social animals and they are friendly to humans. They are also well behaved and intelligent animals. They adapt well with the living environment and learn tricks and performs them well.
The show starts at 3:00 PM every day except Sunday on which performers take a vacation. The show is loved by hundreds of audience who are mostly tourists coming with their children to watch and maybe participate with the dolphins. At the end of the show dolphins greet the audience and spare themselves a few minutes for people to be photographed while kissing them.
The dolphin show ticket price is Eur 15 for adults and Eur 7.5 (price maybe changed at any time without notice). Tickets prices are sold at a discounted price for Egyptians (L.E 35 which is approx. Eur 5).
| | |
| --- | --- |
| | |
| Dolphin salutes audience at the end of the show | Dolphin show is loved by children |
Note:
We are not affiliated or associated in any way with Dolphina park Sharm El Sheikh, information in the above article is only intended as a guide to help you know a little bit about attractions in Sharm El Sheikh or Egypt. Prices mentioned in the article should only be taken as indicator to the actual price which you can get by contacting the park.