Egypt Holidays calendar 2011
Plan your holidays for 2011 ahead. Check holidays in Egypt to find a suitable time to travel to our beautiful country.
| | |
| --- | --- |
| Christmas | Thursday 7th January |
| Police day | Tuesday 25th January |
| Prophet Muhammad's birthday | Friday 15th February |
| Sham El Nessim | Monday 25th April |
| Sinai Liberation day | Sunday 25th April |
| Labour day | Saturday 1st May |
| 1952 Revolution day | Friday 23rd July |
| Eid El Fitr | Friday-Sunday 30th August - 1st September |
| Armed forces day (1973 6th October war) | Wednesday 6th October |
| Eid El Adha | Tuesday-Friday 5th - 8th November |
| Hijra New Year 1432 | Tuesday 26th November |
Take advantage from winter clearance of cheap holiday offers around the world. Save up to 60% of vacation cost to many travel destinations including Mexico, Caribbean, Hawaii and Europe. Apple vacations is a well reputed travel agency and tour operator with many years of experience in travel business offering high standards of tourists services that gained it customers satisfaction.
Travel offers include low cost all inclusive winter vacation packages to NH Royal beach Punta Cana for $499 per person for 3 nights and many other great holiday offers
Featured Hotel - Dahab Paradise hotel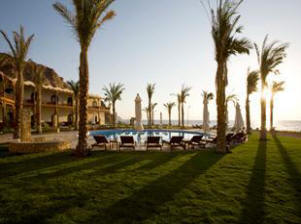 Hotel rating: 3 stars
Average room rate USD 44
Located in the natural landscape of South Sinai, Dahab Paradise hotel provides panoramic views of the stunning desert of Sinai as well as plenty of activities to enjoy. Hotelís facilities include a dive centre, relaxing Bedouin sitting area, outdoor swimming pool and a palm garden area. If you are looking for adventure, the Travelers Information desk will be helpful in giving you some ideas. There are important sites guests should not miss such as the St. Catherine monastery, the famous sunrise at the Moses Mountain and a camel ride you will never forget. Among the attractions of Dahab is the Red Sea which is an ideal place for divers and snorkelers.
Hotel facilities:
WiFi Internet access
Safety deposit boxes
Massage
Outdoor swimming pool
Restaurant
Tours
Other Dahab Hotels